In my 13 years of teaching I think that I have tried every different kind of writing notebook out there. I still haven't found one that I LOVE. This year, I am trying writing binders. So far, so good. I wanted the kiddos to be able to decorate them with writing ideas, so I got the view binders.


The first thing that I did was to send home some writing homework so that the kiddos could design their Writing Notebook covers. I sent home 2 pieces of colored paper and a note explaining what I was looking for. Of course I made my own as an example, that is what you see here. It really was a lot of fun. I made sure that I chose a variety of things to put on my covers.


The kiddos rose to the challenge and created some great Writing Notebook covers:
Here is the note that I sent home for homework:(Click on the picture to get your own!)
So, now on to the important part! What is on the inside?
Our notebook is divided into 3 sections:
This section is where we keep all of our writing. Once we get past the rough draft stage we will be storing the story in the front pocket (we are not quite there yet!). One thing that I have really tried to work hard at this year is keeping our notebooks cleaner and more organized. On Fridays instead of sharing time we do a "Rough Draft Cleanout". We talk about which stories to keep and which stories to take home. So far, this is a routine that is working well.
The next 2 sections are for writing helpers, lesson papers, and anchor charts (paper sized versions). Our two goals for writing for the year are inspired by a blog post that I read by Lisa Mattes from Growing Firsties. You can find that post here:
The second section is the "My audience WANTS to read my writing" section.
My teammates and I divided the 6 traits to fit our 2 main writing goals. Here is what we came up with: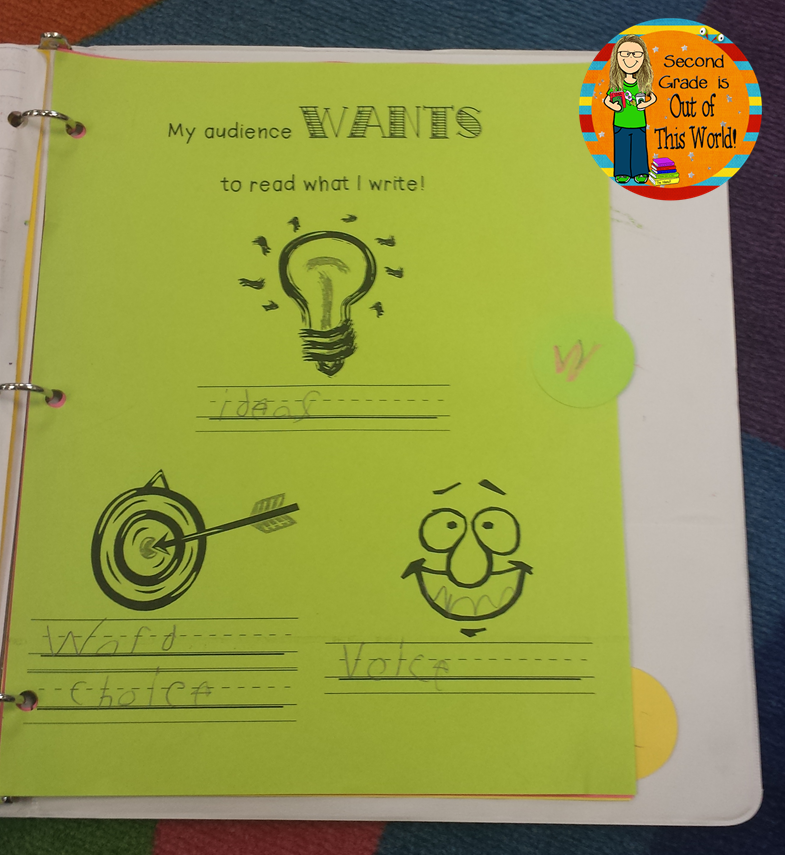 We figure that you have to have a good idea for someone want to read what you are writing. Word choice and Voice make it more interesting. Sentence Fluency also works here, but we decided to put it in the next section.
Keep reading! I have a feeling that there might be a freebie in your future! 🙂
The first 5 people to post a comment on what they would put on their writing notebook cover with their e-mail address will get the my Writing Notebook inserts for free! (They are a bit different from the ones posted due to copyright rules).
The 3rd section is "My audience CAN to read my writing".
We figured that a story needed organization, conventions, and sentence fluency in order for someone to be able to read it. We chose sentence fluency as the third one because:
1. If all of the sentences were the same it would be difficult to read.
2. We wanted 3 traits for each goal.
This section is also going to hold any grammar lessons/anchor charts that the kiddos might need.
If you are looking for a kid friendly, easy way to make the tabs for each section check out my blog post about it
HERE
.
So, that is our writing notebooks this year! Thank you so much for stopping by and check back soon for the next installment: Writing Mini-lessons.
How do you set up your writing notebooks?