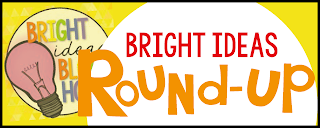 Welcome to the November edition of the Bright Ideas Link-
Up! This one is a little different! Over the past 10 months, we
have shared thousands of great ideas through our monthly
Bright Ideas event. This month, we're re-capping all of those great ideas, just in
case you missed any! Below you will find some of my bright ideas from the
past several months (just click on the pictures and they will take you to the original posts):
I love to promote positive behavior in my classroom with my "Boasting Box". I try to recognize students throughout the week in my weekly newsletter! They love to see their names in print!
I am always looking for ways to get my kiddos excited about reading! They love my "New Book Box".
I am also always looking for ways to make my life easier! This is a website that makes scheduling parent volunteers and/or conferences a breeze!

This post is about making easy tabs for Interactive notebooks or binder dividers:
But my favorite is this one:
You can easily find all of my Bright Ideas by searching them on my blog.
I hope that you've enjoyed these bright ideas, and that you have found an idea
that you can use in your own classroom. Be sure to check out the link up below
for tons more bright ideas from my friends!
Have a great day!