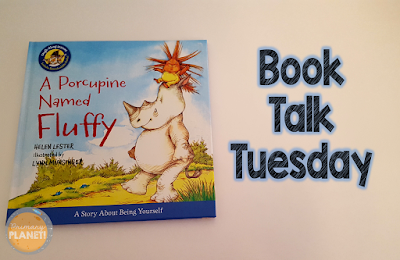 Hello all!
Happy Summer Vacation.
I am starting a new series called: Book Talk Tuesday.
Each Tuesday I will be featuring a book that I love with a freebie to go with it!
This week I am talking about: A Porcupine Named Fluffy by Helen Lester.
This is an adorable book about a porcupine who has some trouble with his unusual name. I mean really, who names a porcupine Fluffy?
He is pretty upset about it until he meets a friend with an equally amusing and unusual name!
This book is adorable! My students really enjoyed it. We talked about many different things with this book.
Theme has been an ongoing topic of conversation throughout this school year. We had an ongoing chart of different themes for different books that we read this year. We decided that the theme of this book was friendship and acceptance.
This is also a fun book to get the kiddos talking about where their names came from. They love to share how their parents picked their name. If they don't know, this would be a great activity! Have your students go home and ask their parents why they chose their name. Then, have everyone share the next day. My own boys love their "name" stories and ask to hear them often!
Doing some research on porcupines and rhinos with this story would be fun as well.
We also talk a lot about comparing and contrasting in 2nd grade. I made a little freebie to go with this book. You can get yours by clicking on the picture below:
What other kinds of activities have you done with this gem? I would love to hear about them!
Thanks so much for stopping by!
The link below is an Amazon Affiliate link. If you would like to get your own copy you can click the link and go straight to Amazon. If you make a purchase from Amazon I will receive a small commission at no cost to you. Thank you for your support!