Sequencing is the identification of the pieces of a story or event— the beginning, middle, and end. It also refers to the ability to retell the events in a text in the order in which they occurred. Sequencing and retelling are great ways to improve both your students writing and their reading comprehension! Read on for some fun ways to teach sequencing in your classroom!
I liked to use the gradual release of responsibility model of instruction in my classroom. Basically, it boils down to "I do… We do… You do…" so in this post, I will be giving you some lesson ideas in each of those parts to help you successfully teach sequencing!
1. "I Do" Sequencing
So, the I Do part is YOU, the teacher. You model what you want the students to eventually do on their own. I love to start out with the why? If something is out of order, it doesn't make any sense. When I start my sequencing unit I start with my morning message. I write the message totally out of order, but I do use transitional words (first, next, then, last). It might look something like this: (pic of a whiteboard with a message out of order).
Obviously, it is out of order and doesn't make any sense. So we read it together and your students get to act all appalled and confused (they LOVE it). Then I ask them what is wrong, don't they get it? NO! They don't. Why? It isn't in order! So, this is when I introduce the word sequence and sequencing. We need to learn to sequence so that when we write our story makes sense because it is in order. This would make a great anchor chart because you will be doing the lesson together.
2. "We Do" Sequencing
We Do is the part when we do sequencing together as a class (or in small groups). We read the message again and then, the students turn and talk to their partners about how to fix the message. We fix it together and I always ask how they know how to fix it (the transitional words). Then we talk about those and why they are important to sequence writing. We make a list of Transitional Words on the anchor chart, poster, or projectable. I either have it on a handout or I make a fill-in-the-blank helper page for the kiddos to stick in their writer's notebook or binder. (I made you a freebie transitional word poster and helper page for the students to fill in with transitional words).
We do sequencing examples more than once during the week before I ask the students to complete sequence writing on their own.
Another activity that I enjoy doing with sequencing is sequencing cards or pictures. I put students into groups (with the number of cards that I have, so if it is a 3 picture sequence, they are in groups of 3). Each student in the group gets a card or picture, then as a group, they have to decide the correct sequence. When everyone is ready, the groups show their cards and tell the sequence using transitional words (with the teacher's help if needed). If you print the cards onto magnetic sheets (affiliate link), you can still pass them out, but them put them in order on a magnetic surface like the whiteboard.
Then, I choose one set of sequencing cards to do sequence writing together as a class. You could do this on the whiteboard, on large paper, or using your smartboard or using a document camera. As a class use the pictures to write a sequence story to go along with the pictures that you chose. Read it together as a class and make sure that transitional words are used.
You could also do small group activities for sequencing. As you know, some students will need extra support. Using the sequence picture cards in small groups is also a great way for your students to practice sequencing. You can have sequencing frames to help scaffold or have your students put the pictures in order without the frame. Have them tell the story in the pictures using transitional words.
3. "You Do" Sequencing
The last part is "You Do". This is when students do their sequence writing on their own. Before we start we go over our anchor chart (or poster, or helper page). We also reread the sequence writing that we did together as a class.
Then, I pass out the sequence writing worksheets and we go over the instructions. The kiddos cut out the pictures, decide what order they go in, and then glue them in sequence. They can color them too of course.
They then use the paper with transitional words to write their sequenced story! These pages have the sequencing frame built in, so the students have some support when they are writing. If you choose, you could white out the transitional words before you make copies if you are looking to give your students a bit more of a challenge.
I would have them do one of the sequence pages with a partner, and then collect them. Check them over to make sure that they have the idea. Then, have them do another page independently. This one I would collect for a grade or save it for parent conferences, writing portfolios etc…
Another Fun Sequencing Activity
If your students are still having some trouble with sequencing, another fun activity that we do is to act out a story! (Links are affiliate links to Amazon. If you purchase anything through these links I get a small commission at no cost to you. Thank you). The Enormous Turnip is a perfect story to act out with your class as it has an easy lovely sequence to it!
Some other great books for sequencing include Brown Bear, Brown Bear, What do You See by Eric Carle, Room on the Broom by Julia Donaldson, There was an Old Lady Who Swallowed a Fly by Lucille Colandro (she has a whole series of Old Lady Books), and The Mitten by Jan Brett.
Of course, there are many, many more books that are super fun for sequencing! My students always LOVED acting out stories! Sometimes they would even choose to act out stories during recess! Super engaging and motivating.
Thank you so much for stopping by! Would you like the freebies mentioned in this post? Sign up for my newsletter for super fun teaching activities, tips, and tricks. Not to mention access to my Free Resource Library!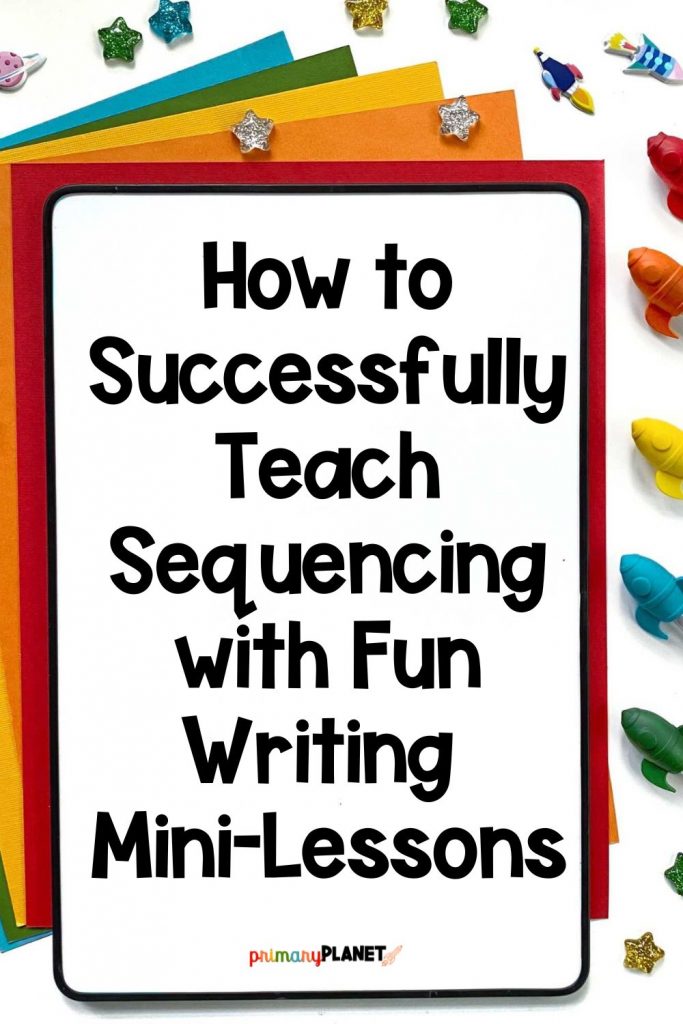 Happy teaching,