Oh my goodness! I couldn't be more excited to share with you this fun product that I had the privilege of trying out in my classroom!
I had never heard of mentor sentences before, when I came across this blog post by Ideas by Jivey. I was intrigued. At first I thought that this would work well with older kiddos, but let me tell you, my kiddos were champs with the one that we worked on in class!
At this time of year we start working on Folk tales and Fairy tales, so I chose The Three Snow Bears by Jan Brett.

We started by reading and enjoying this wonderful book. Then, during Writer's Workshop time we started talking about mentor sentences.
They liked the story about my having a mentor teacher to help show me the way when I was a new teacher (they had a hard time believing I was ever new). They got the concept pretty quick, so I showed them the sentence and invited them to notice things about the sentence. They noticed a lot!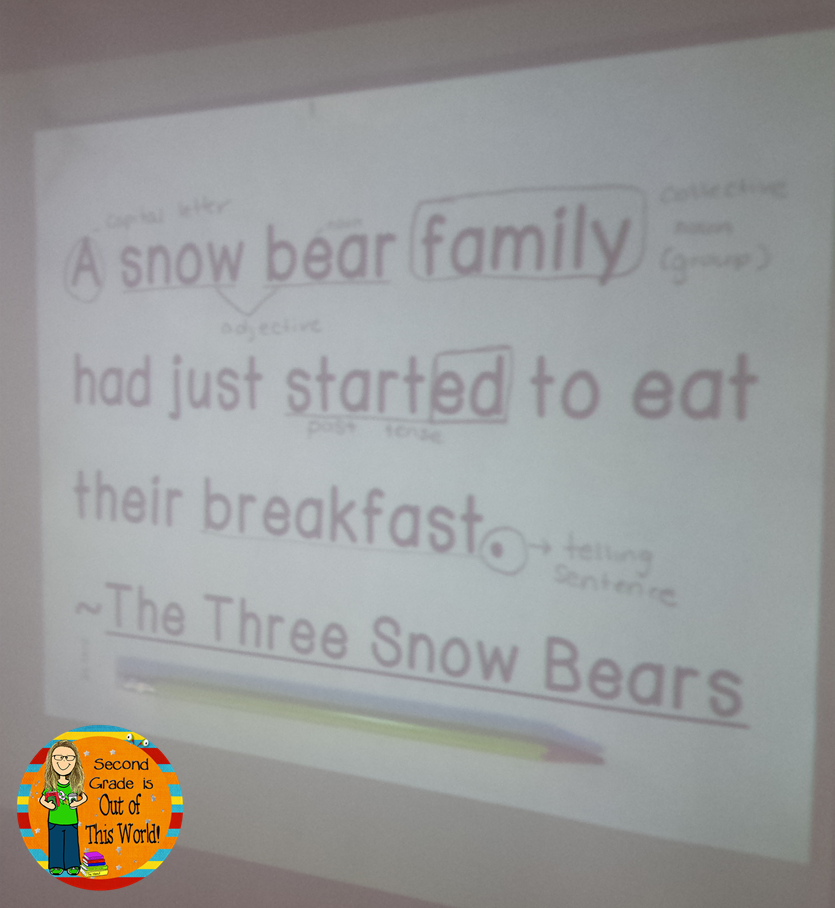 We talked about capitals! We talked about periods! We talked about nouns, verbs, and (gasp!) collective nouns! We even talked about past tense and adjectives! I was very proud of my kiddos! Now, did they use those precise words? Some! We used noun, and adjective, capital letter and telling sentence. But, one precocious little darling pointed out that a family was a group! That opened up the conversation about collective nouns very nicely thank you very much!
So, next Writer's Workshop we read the book:
A Cache of Jewels by Ruth Heller.
This book has all different sorts of collective nouns. We really enjoyed this one! Their favorite was "a bevy of beauties".
So, the next day I gave everyone their own copy of the sentence to glue into their notebooks. We labeled all of the parts that we could. They love saying big words like collective noun and possessive pronouns.
The next time we discussed our mentor sentence we revised it. Revising can be a really tough for second graders, so we tried adding an adjective. This little darling added a few things and I think that she did a marvelous job!
A polar bear family had just started to eat their delicious soup. Yum!
The last day of our mentor sentence adventure the kiddos were to write their own sentence modeled after the mentor sentence. It was a lot of fun to see what the kiddos came up with!
The flock of birds were flying south for the winter.
A third grade class had just started to read in their dictionaries.

My kiddos did an amazing job with this mentor sentence! I am so glad that I got to try this out! I will definitely be using these again…a lot!
Ooooooooo! and the best part is, I am giving away Jivey's first set of mentor sentences!
and, your kiddos can use their wonderful new sentence writing skills using my newest product:
Enter to win both of them below!

Thanks so much for stopping by!