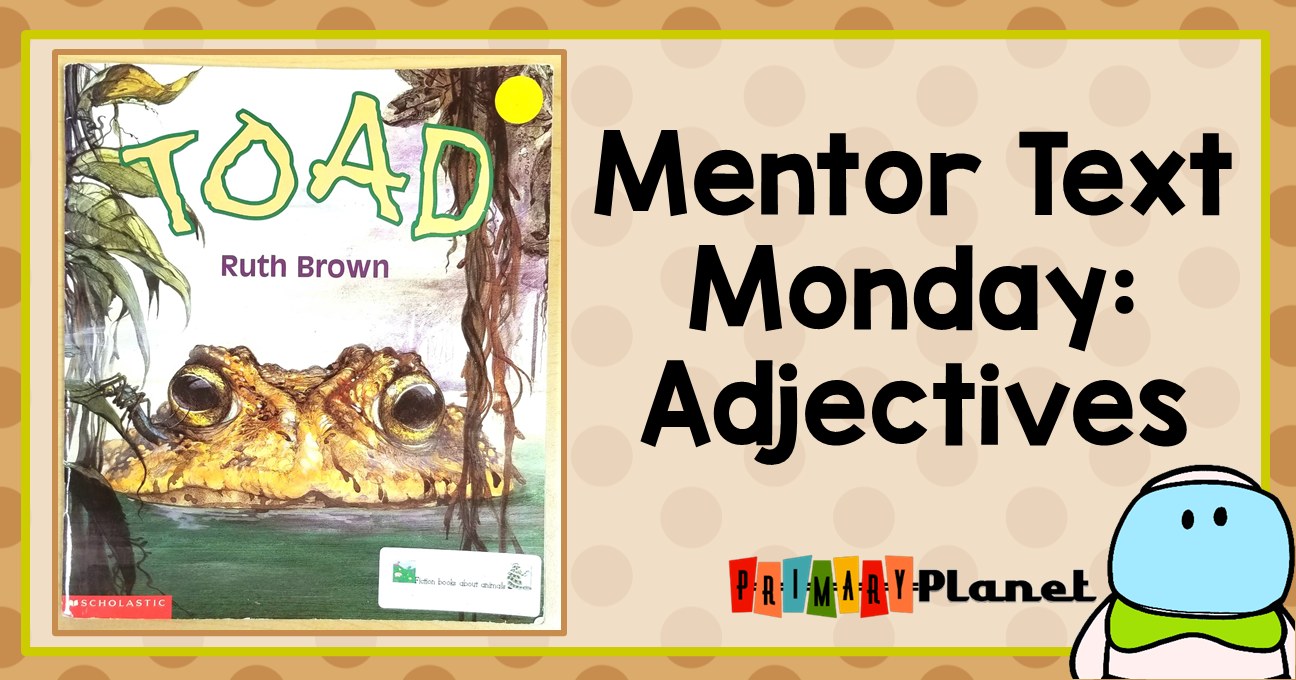 I'm Back! Welcome to Mentor Text Monday! Today I am sharing with you a fantastic picture book for teaching adjectives! Click Read More to continue…
I really enjoy teaching my students about adjectives! Using adjectives make their writing so much more descriptive and fun!
Toad by Ruth Brown in a fun Picture Book for Teaching Adjectives!
I love this great children's book with descriptive language! It is the story of a horrible toad, a slimy, mucky, disgusting toad! The kiddos love the gross factor of the adjectives in this book! It follows the toad through the swamp where he almost meets his doom!
The illustrations are also fantastic! I use the printable worksheet (found for free below) to help the kiddos see that word choice matters when they are writing. We fill in the top with adjectives before we read. We get some good ones: bumpy, dry, brown…but then, we read Toad and the adjectives we write down after reading are so much more descriptive!
Then, I have my kiddos color a toad and write a description on the back using some of the fun adjectives that they found in this book on the front!
If you don't already have this little gem you can get it here through this affiliate link.
(affiliate links provided to fund future Mentor Text Monday book purchases!) I make a small commission at no extra cost to you! Thanks for your support!
You can find the printable that I used for this adjective activity
HERE
!
Looking for other great books to teach adjectives? Or just other Mentor Texts? Find my recommendations
HERE
(this is an affiliate link for Amazon):
If you are looking for more fun activities to help your students learn about adjectives I have a fun adjective unit in my TPT store! You can find that HERE!
Looking for more fun freebies and awesome teacher ideas, tips, and tricks? Sign up for my newsletter and get all kinds of goodies!
Pin this image to share this fun picture book for teaching adjectives and freebie! Sharing is Caring! 🙂