Hello all!
If your school is anything like ours, you are always looking for ways to raise a little money to help the kiddos out with something or another.
Our school is no exception!
One of our brilliant teachers came up with a way to make a little extra money that the kiddos LOVE!
We have a team of kiddos at our school who are currently raising funds for
St. Baldrick's
. They are shaving their heads to raise money to help defeat childhood cancer.
Here is what we are doing to help them meet their goal. Each Friday until the event we are having an "activity" day.
The kiddos pay a dollar for each activity they would like to participate it. Of course they get a little discount if they would like to do all of the activities. This is easy to tailor for different grade levels to do different things.
Here is an example of what we did in second grade: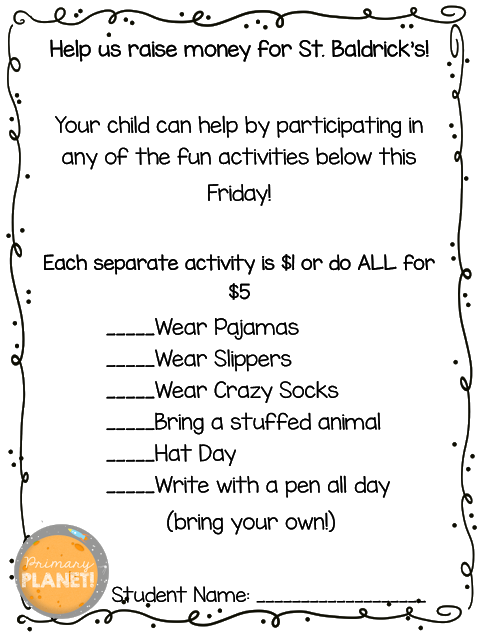 The other grades did similar items, but some did: Bring in your favorite clear beverage, Wear a Cape (Superhero Style!), Bring a pillow for your seat, Read a book to the class, etc…
These days are always a bit chaotic, to be honest, but the kiddos love them and we raise a good amount of money each time we do!
Another thing we do (all with the principals permission of course), is one of MY personal favorites!
So, for example, we as teachers can pay $20.00 to the fundraiser, and we get to wear JEANS for the month of March (3 weeks as we have Spring Break the last week). We also did a jeans month in December.
The teachers LOVE it, we are more comfortable during the day which makes us happier, so the kids love it, and we make a little money for a great cause!
WIN-WIN-WIN!
Thanks so much for stopping by!
Click on the picture above for a free "generic" fundraising form with the options above.
Hope you have some fun raising some "Fun"ds!