Building Reading Stamina is something that we start on our very first day back to school.  Until our reading stamina is built, a lot of my lessons are on hold!  I use a version of Daily 5 in my classroom, so I always go back and reread the book before school starts. We start slowly, just three minutes to begin.  One of the best ways to help my students build their reading stamina is to help them have a plan for their reading time. So, how do I go about building reading stamina with my second graders?  Read on!
This post contains affiliate links for Amazon. By purchasing an item on the Amazon site using these links, I will receive a small commission on your purchase (with no extra cost to you). For more information about my Disclosure Policy, please visit this link!
Building Reading Stamina!
Building up our reading stamina is an important part of teaching my Reading Workshop routine!
The kiddos need to be able to read independently in order for me to be able to do my reading conferences and reading groups!
1. What is reading stamina?
Reading stamina is being able to read independently for a long (ish) amount of time. I always start by teaching my students the definition of stamina.  I tell them that if I asked them all to run around the building once, we could all probably do that today.  But if I wanted them to run around the building 100 times, we would need to practice quite a bit in order to do that.  Practicing is building up our stamina!  Stamina is being able to do something for a long period of time without giving up!
Grab your poster freebie
HERE:
2. Practice!
This is the most important part.  The kiddos need to practice!  I start with 3 min. of stamina and work our way up from there.  Some years it only takes a week or two.  Sometimes it takes 3 weeks or more!  Keep at it.  It is worth it for you as a teacher, and for your students as well.
3. A little friendly competition never hurt anyone.
All of the second-grade teachers in our building teach using a version of Daily 5, so we are all working on building our stamina at the same time.  We always like to report to our students how much time the other classes have to help keep them motivated!
4. Graph it!
My students love to see our stamina times on our graph.  Every day we practice 2-3 times.  I graph their best time so we can see our growth!  20 min. of reading stamina is our goal.
You can find an adorable graph freebie
HERE
.
5. Help your students make a reading plan.
This is probably the most effective strategy to help students with their reading stamina.  I give this Reading Goal Checklist bookmark as a visual reminder of how to build reading stamina and how to make a reading plan! Click on the pics or get your freebies
HERE
!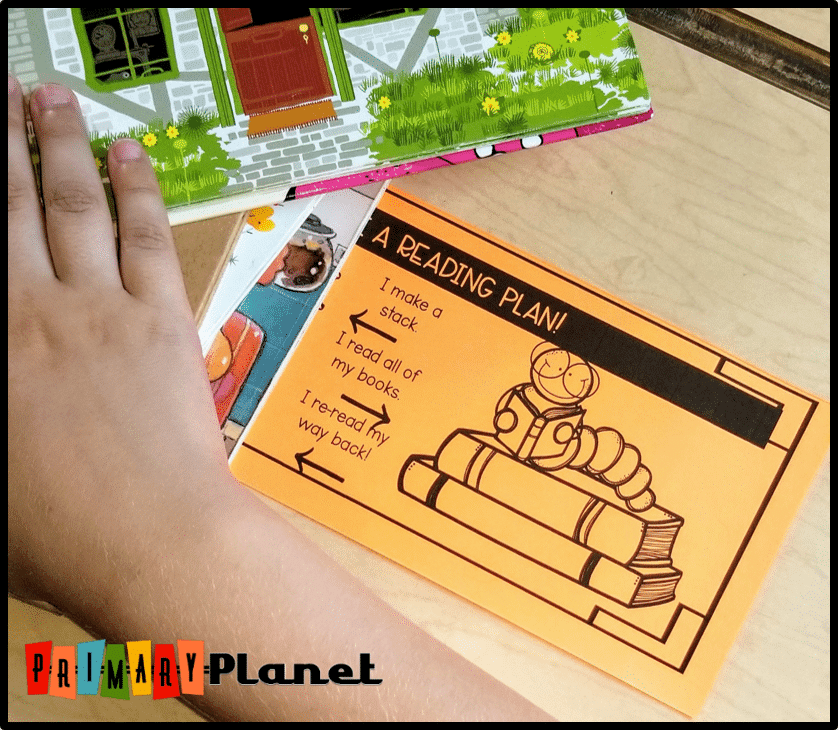 This bookmark is part of my Reading Goal Checklist Bookmarks!  You can learn more about them
HERE
, or click the video to see more!
music in video: Rainbows Kevin MacLeod (incompetech.com)
Last, but not least: Be consistent.
If your students aren't doing it the way that you want them to, stop them and try again.
They will need lots of practice, but it will be worth it!
Looking for the Daily 5 book?  I couldn't teach without it!  You can find it here (this is an affiliate link. 
By purchasing an item on the Amazon site using these links, I will receive a small commission on your purchase (with no extra cost to you).
I have also included a few other things to help make Building Reading Stamina a little easier with your kiddos!  In the zip file you will find ALL of these Building Stamina Resources:
Stamina Reading Goal Checklist Bookmark

Stamina Reading Goal Checklist Anchor Chart and Notebook page

Stamina Reading Conference Labels

Digital Stamina Reading Goal Checklist Notebook page
These are all part of my Complete Reading Goal Checklist Bundle:
Get your freebies now, or Pin for later:
Like what you see?  Sign up for my newsletter and don't miss a thing!
Thanks so much for stopping by!  I hope to see you again soon! Happy Teaching!