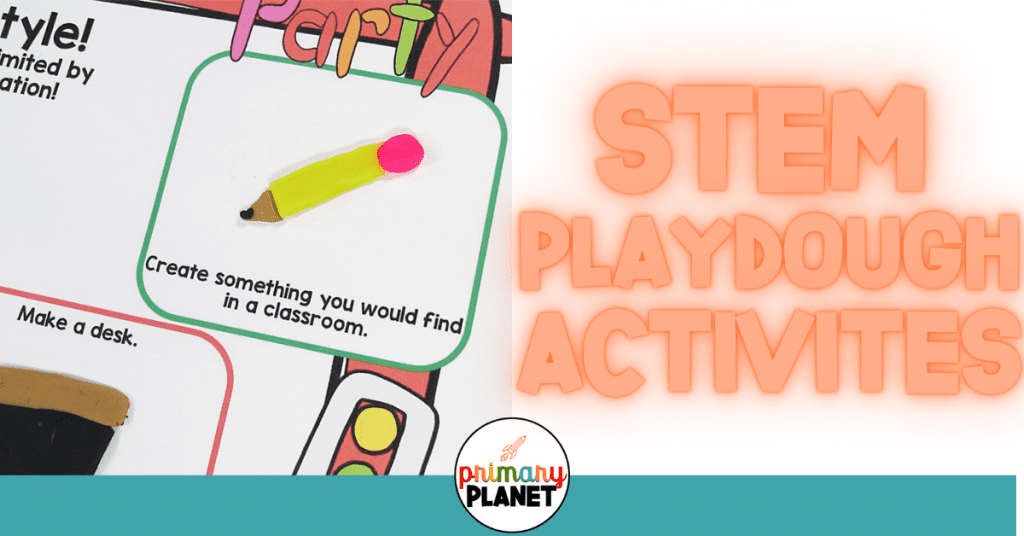 STEM Playdough Activities are a huge hit in my classroom! Read on to learn more about STEM/STEAM and easy and fun ways that you can incorporate STEM/STEAM into your classroom!
This post does contain affiliate links to Amazon. If you do purchase something through my links I receive a small commission at no cost to you!
What is STEM/STEAM?
What is STEM/STEAM? STEM stands for Science, Technology, Engineering, and Math. STEAM adds in the A for Art. These fields all share an emphasis on creative thinking, problem-solving, innovating, and critical thinking, all the things that we would like our students to be able to do! STEM/STEAM activities give our students a chance to practice all of those life skills using fun, interesting challenges!
STEM Playdough Activities
Playdough is a perfect material for completing STEM activities as it is so versatile. You can create almost anything with playdough! Students love playing and creating with playdough. Adding in some STEM elements takes their play to the next level.
These fun and low prep STEM Playdough activities get your students thinking about ways they can use playdough to solve challenges! To get started you just need playdough and these fun playdough mats! The playdough mats are super easy to make, just print and laminate! The mats come in 2 different sizes, so you can choose what works the best for you. They also come in color or black and white. If you choose black and white, your students can make them personal by coloring them before you laminate them!
I also have STEM Playdough Activities for different seasons and different themes. Keep your students engaged all year long with the wide variety of playdough mat activities. Super fun! You can check them out in my Tpt store HERE!
These STEM playdough activities also come with posters for different playdough techniques and suggestion posters for how to make items with playdough. They also include task cards if you would rather your students complete the challenges on a tray or at their seats without the constraints of a mat. STEM Playdough Activities are perfect for your STEM Center or Maker Space. They also make great activities for morning work or fast finishers as well. Check out THIS POST about how I use playdough on the first day of school, and THIS ONE about how I use playdough mats for morning work!
STEM Center/ Maker Space
Having a STEM Center or Maker Space in your classroom is a great way to incorporate STEM into your day. Your maker space could be as simple or as elaborate as you want it to be. You could have one type of STEM material or many types. It is up to you. I have an Ultimate Maker Space list for download if you sign up for my newsletter! It has a ton of different ideas for things that you could put in your Maker Space! I also have an Amazon Idealist if you are interested. It is an affiliate link and you can find it HERE!
Not looking to invest a lot of money? You can easily ask for parent donations for a lot of the items that you would use in a maker space. Things like paper tubes, paper bags, magazines, tape, aluminum foil, yarn, scrapbook paper, and stickers are all things that parents don't usually mind donating! Plus, it keeps your maker Space interesting. You never know what they may find to donate.
You don't need a lot of space either. I keep my maker space materials in a tub or tubs. You can even make individual "maker spaces" by putting a small number of materials into pencil boxes or plastic baggies to limit the amount of supplies your students use at one time! I try to make time for our Maker Space once a week, or students can visit when they are finished with their work. You can give your students a challenge to complete, or leave it open-ended and see what they create!
Thanks so much for stopping by! Be sure to pin the image below! Happy Teaching!