I LOVE reading Christmas stories to my students! They get so excited! So, this week is a Christmas story by Jan Brett (and come on, who doesn't love Jan Brett). The Animals' Santa!
The Animals' Santa is beautifully illustrated Christmas Story just like all of Jan Brett's books!
It is a story of Little Snow and his brother discussing the Animals' Santa.
Little Snow is not sure that he believes that there is an Animals' Santa who brings all of the animals gifts at Christmas.
My kiddos really enjoyed this story! When we finished reading, we did a Venn diagram comparing and contrasting the Animals' Santa with our Santa! They really enjoyed the book and the activity!
You can get your own Venn Diagram Freebie
HERE
!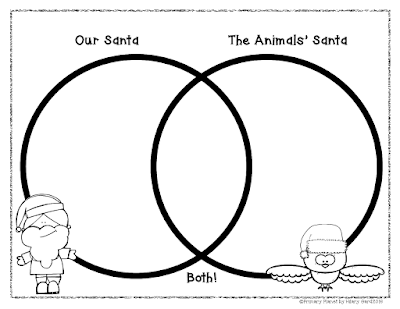 If you love Jan Brett she also has a webpage full of great stuff!!! You can find it
HERE
.
If you don't have this book already, you can find it through this affiliate link:
If you would like to get your own copy you can click the link and go straight to Amazon. If you make a purchase from Amazon I will receive a small commission at no cost to you. Thank you for your support!